Story
A few years before when I was contemplating adding an extra room to our house, I had rough designs on re-doing the wooden decks around the house (see the
New Room Design Project
). With the demise of our hot tub in 2012, and the deterioration of the decks, it became time to revist redesigning and rebuilding the decks.
I contemplated paying a designer/builder to do everything, and I contemplated doing it all myself. In the end, I did not have time to do this project and all the other projects on my list, so I decided I would design it and have a general contractor help me with the construction part. Early onwards, I was fixated on having built-in furniture, but eventually decided to have stand-alone furniture, I had the contractor make the deck structure, planking and fences while I would build stand-alone furniture for the decks and also build the "deck screen" where a privacy fence used to be. More details on the furniture can be found on the
Deck Furniture Project Page
and more details on the privacy fence can be found on the
Deck Screen Project Page
. I would also be the one adding lights to the deck, which is described in more detail on the
Deck Lighting Project Page
. There is also the
Deck Perimeter Project Page
that shows some followon work around the adjacent areas to the deck.
The Landscape
Though this is all bundled under the "New Deck" project, there are a lot of projects wrapped up in this effort. They are all related and somewhat intertwined. The major things that need to be addressed:
Drainage Problem - When it rains heavy (as it likes to do in Central Texas) there is a river that runs along the back of my house. A 4 foot wide, 6 inch deep river. I live on a sloped lot, so the water does flows alright, but there is a problematic area around the den and kitchen where the water comes into the flow faster than it exits, so on a prolonged heavy rain it can start to approach entering the house. There are famous songs about the Texas Floods, so it is best that I actually solve this problem than resorting to wishful thinking.
Side Fence - The side fence on the east side of my property is long past due for replacement. I am not really sure what is keeping it up at this point and it has plenty of holes in it.
Front Fence - The front facing fence, especially the gate have their 4x4 support posts so loose that the gate is barely functional. Additionally, at some point in the next year or two, the electric company will need to get some machinery into the back of my yard to replace the telephone pole that is 10 years beyond its rated lifetime. Stabilizing the front fence will incorporate a new double gate to allow wider access to the backyard for the equipment they will be bringing.
Deck Demolition - The old decks will need to be demolished before new ones can be built.
Spa Removal - The old decks cannot be demolished until the old (broken) spa is removed. How does one get rid of a dead beast like this?
Tree Removal - Of the 3 trees that currently stick out of the decks, two are very nice, 18 inch trees. The third is a mangey 8 inch, malformed tree that is nothing but an obstace and has very little redeeming value. This is the tree that will be removed to create more useable deck area.
New Deck - There are currently 3 sections of deck. One is way back along the rear property line that is so far away we rarely use it. The other was devoted entirely to the spa. The third is a small area with two trees growing out of it, one being the problem tree previously referred to. In between the spa deck and the small, tree deck are steps down and then steps back up, which means a complete waste of space and time going down and then back up to get to the same level you started on: not very efficient.
The plan for the decks is:
Remove the unused deck along the back of the property.
Span the two other decks to create more useable, continuous deck space (removal of the spa also helps create space).
Build a new deck along the back of the house where a river runs through it. The drainage solution will be to excavate down to effectively create a riverbed which will allow a better water flow and ensure no water backs up into the house. Rather than have to step across this dug out channel, we'll put a deck over it to reclaim it as useful living space.
Preliminary Work and Requirements
I put some preliminary though into this a couple years ago and wound up with a list of desired features including:
Bench seating, tables and planters.
Built in lighting.
Non-slip treads on stairs.
Privacy wall. We have one already and want to reproduce something like this, though hopefully slightly nicer.
Ipe or composite decking. I want the deck to last a long time with a minimum amount of maintenance. Ipe is the only real wood that fits this requirement, but composites have a lot of advantages too.
Small gap near base of privacy wall and deck surface. A leaf blower trying to operate with the three current walls winds up with a cyclone of leaves that just go round in cicrcles and never leave the deck area. This was we can easily blow or sweep leaves off the deck.
Access to under the deck. We had a possum die under one of our decks once and it was a pain to have to get rid of it.
Being a very visual person, my plan was to build a 3D model of the area, and play around with ideas. I wound up getting a little carried away with the 3D modeling though. Instead of modeling the house around the decks, I continued to model just about everything on the property, which then bled over into modeling the interior of the house. After a fair number of modeling diversions, I finally got to the actual design of the new decks.
An Unexpected Demolition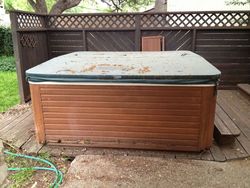 Once I had a rough design, I began the conversation with a general contractor about the slew of interconnected projects. I had looked around on the web for companies that would remove the broken spa. I found the going rate to be about $300, maybe more. My general contractor made the suggestion of listing it on Craigslist to see if someone would take it away from me for free. Like so many things on Craigslist, I would never had thought anyone would be out there looking for something like this.
I took his advice though, and wouldn't you know: I got a bunch of replies. Some seemed to not appreciate that it was broken despite how clear I tried to be, and some seemed to not have any idea what kind of project and equipment would be needed to move this beast. However, I got one reply from a guy named Jim, who very clearly stated he had a truck, a trailer, moving equipment and a few friends he could round up to help. He was not the first to reply (I usually like to adhere to order when I list things), but he seemed the most serious and had the most plausible plan for taking it.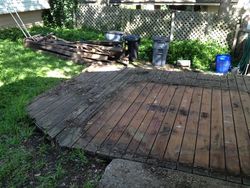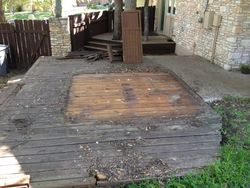 I gave Jim a call, made sure he fully appreciated that it was not operable, but nothing deterred him. A couple days later he shows up with a couple friends and the necessary equipment. I had already measured my back gate to ensure it would fit (standing on end) and diconnected the electric. Problem number one was getting it off the deck. The only place to move it was across a steep grade of grass, which would not do. However, if we removed the privacy fence, we could dump it over the side of the deck and onto the dolly on some concrete paving stones. They were more than willing to do the demolition work if I would give the consent to trash the deck wall. I thought for a couple minutes and gave the go ahead. I brought out my crow bars and sawz-all and the wall did not last too long after that.
The spa was much, much heavier than I would have thought. The 4 of us could just about coax it into going in the direction we wanted (but not always) and all 4 of us could barely even lift one end of it. I am not sure where the weight comes from. It took a lot of ingenuiuty and brute force from Jim and his friends, but they had clearly done things like this many times before. After a few hours of working, they finally got it secured on the trailer and drove off. At each obstacle, I kept expecting Jim to back out, but nothing made him even remotely hestitate about taking it. I sure hope he can get it going and enjoys it.
Decisions and Modeling
The unplanned demolition work served as a forcing function and resulted in a new spark of effort into getting more detailed and specific about the deck design. With this inspiration, I spent some time nailing down the details and making the decisions on exactly how it will get executed. It was during this period where I decided on the exact separation on what I would contract out and what I would do myself. Instead of built-in furniture, I would make the deck furniture (see the
Deck Furniture Project
). I will also be adding the lighting and finer details (non-slip deck treads, etc.)
The deck design consists of three main areas that are more or less separate decks, though they are adjacent to each other. I refer to each based on their general compass orientation in relatioon to one another.