Story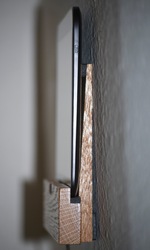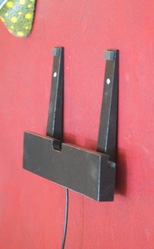 I was working on a software project whose working name is "Home Information Center" which requires one or more touch screen devices located throughout the house. This was to be a prototype, so I was looking for a flexibly way to achieve this and a computer tablet seemed the most accessible and versatile device. Knowing this device would not have a long shelf life, I did not want to do anything drastic to the house to install this.
Thus, all I wanted was a docking station, preferrably with a magnetic Pogo cable, that I could easily mount on the wall. I had bought a Nexus 10 for the project, and there was nothing remotely close to what I wanted. Thus, I had to design and make something myself. It seems like wall mounting a tablet is not something peole are looking to do, because there are very few commericial options for doing this, and none that work well or that use a magnetic Pogo cable.
I am pretty happy with the results of this. It is a small footprint, easy to make, easy to mount and provides a stable platform with little chance for the tablet to fall out. I made one for the kitchen and one for the bedroom, with a different finish to match each decor.
Details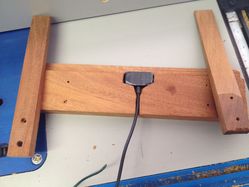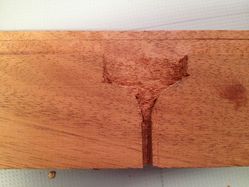 I took a little while thinking about the design before I came up with something that was simple and elegant enough for me. I then made a prototype out of scraps of wood to see how it would look and function and to work out any kinks in the design. By far, the trickest thing would be cutting the slot for the Pogo cable. I wanted it so that you could just lay the tablet down and the magnetic Pogo cable would easily grab and make the connection. I expected the tolerances here would have to be tight to make it work well. I did a lot of measuring and remeasuring of the tablet and the Pogo cable to arrive at what I needed.
For the prototype, I hand cut the Pogo cable slot using an chisel and rubber mallet. It came out surprising well. One key to adding some slack to the tolerances was my adding some foam padding to help seat the tablet as well and protect it from scratching. An important design element was to have the tablet lie at a slight angle to prevent it from falling or flopping forward. For the prototype, I just angled the brackets by hand using a belt sander.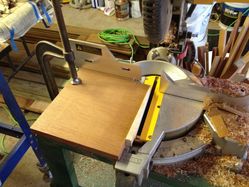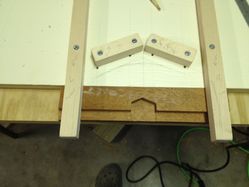 The prototype worked very, very well though there were two important modifications I found I needed.
For the prototype, I had it just hanging on picture hangers and this clearly was not good enough to overcome the magnetic Pogo cable connection. Thus, it would need something that directly screwed into the wall so it would not budge under the moderate undockling pressure that was needed.
The backward angle was also not quite enough. Trying to type on the tablet would have it bouncing back and forth, so I needed to make the angle slightly larger.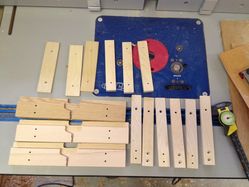 Overall I was very impressed with how well the prototype worked and felt confident I could make much better ones. I also felt like there could be demand for something like this, and if I could make them easily enough, maybe I could sell some. I then went about making the real docking stations, where I cut more parts than I needed in case I decided to try to sell some. This meant coming up with ways to cut the parts that was easily reproducible, and this meant making fixtures.
More Views