Pronto History Tour
Anthony Cassandra
Former CTO, Pronto LLC
Outline
2004 - An Idea
2005 - The Beginning
2006 - Transition to CSE
2007 - Social Shopping
2008 - SEM and Profitability
2009 - Microsite Stategy
2010 - Brain Drain
2011 - International SEM
2012 - Decline of SEM
2013 - The End
N/A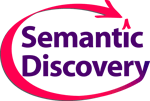 2004 - An Idea
Company Genesis
Interactive Corp (IAC)
Semantic Discovery (SD)
Prototype of SD technology for products/prices led to ...
N/A


2005 - The Beginning
Goal: Downloadable Client
Price comparison browser add-on (downloadable client)
Alerts (a.k.a., "toasts") when viewing products on retail sites
Price comparison vs. similar product alerts
Don't call them "pop-ups"
N/A
The Corporation
Name from United's "Red Carpet" lounges
Incorporated March 17, 2005
80% IAC Owned
Day 1 Founding Team:

Dan Marriott, Brad Perry, Nancy Perry, Jonathan Marcus, Anthony Cassandra, John Foley, Sid Conklin

Offices in Boulder, CO and New York, NY
"Stealth" mode operation for 6 months
N/A
Early Data Challenges
Crawling and extraction daily:

of 60K+ web sites
for 100+ million product offers

Normalization for price comparisons
Similar products logic
Product web page modeling (for client)
Implementing PERL regexes in Microsoft C++ world
N/A
Data Solutions
Site models for extraction (xpath + regex)
Page models for browser plugin (xpath + regex)
Automatic model learning using domain-specific hints
Product Classification (naive Bayes)
Feature Extraction (context-sensitive rules)
Normalization rules by features (fairly aggressive)
N/A
Pronto It Is
Corporate name finalists:

Pronto

(so-so)

Sweet

(ugh)

Uber

(yuck!)

Domain availability and cost limits the choice
Beta launch in November, 2005
First revenue event in late December, 2005
N/A
IE Client Screens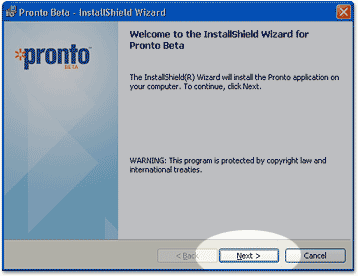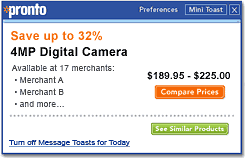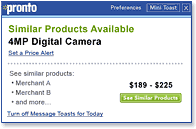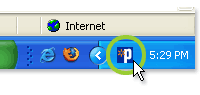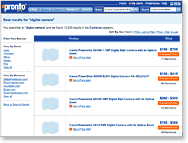 2006 - Transition to CSE
Transition to Comparison Shopping Engine
Download-leary era, distribution never came
Building a traditional comparison shopping engine (CSE)
Revenue-sharing (CPA) gives way to cost-per click (CPC)
Data feeds increase: direct and aggregate
Initial friction between paid vs. unpaid listings
N/A
New Data Challenges
Renewed focus on classification: browse taxonomy
Classification peaked at 95% accuracy
On average, ever page has an error
Same offer, multiple sources (crawl vs. feed)
Product search infrastructure not scaling
N/A
New Data Solutions
Multiple classifiers: mixture of experts model
Normalization: strong commodity, weak commodity, "titled"
URL resolution to match products
Unionization to merge "best" data from multiple sources
Separation of data processing and user searches (data snapshots)
N/A
Pronto Web Site (version 1)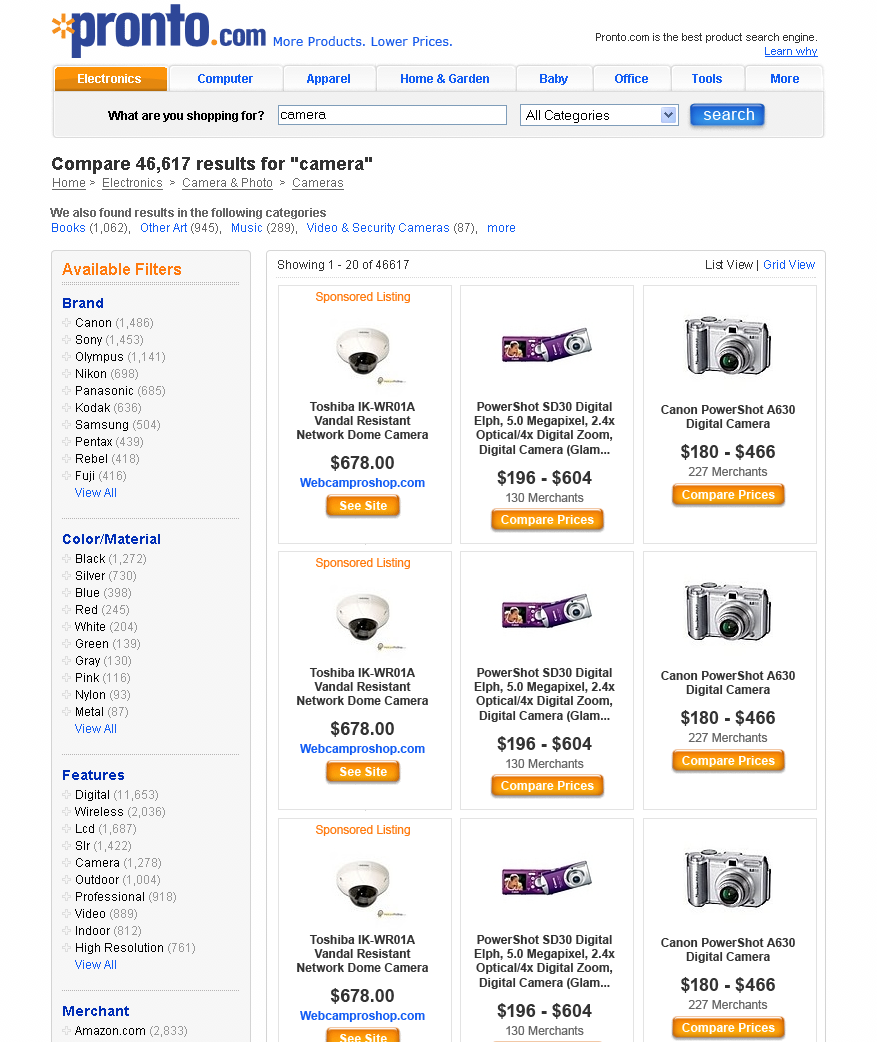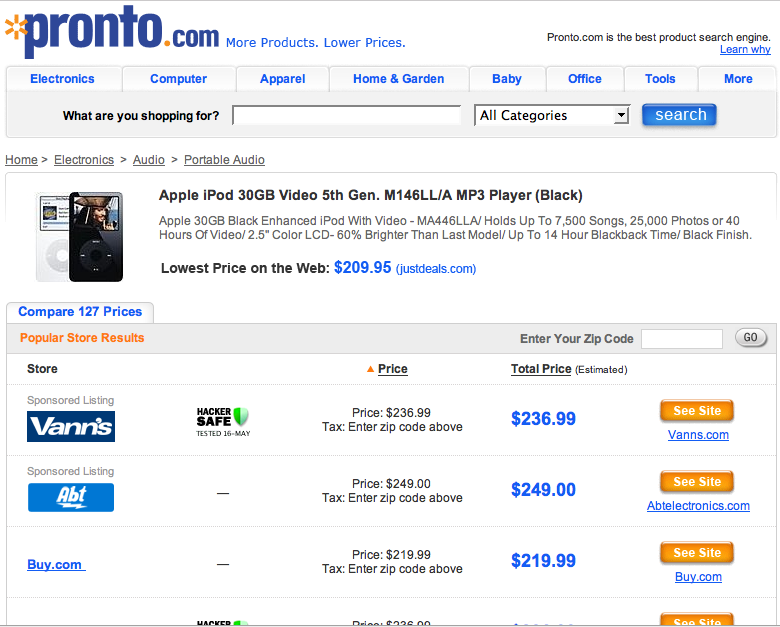 Other Projects
First SEM Keyword Generation Code
Beginnings of Syndication

Partner API (PAPI)
Partner Center Portal

Merchant Portal for Direct Merchant Feeds
Creation of Firefox Add-on

(500,000 downloads)

N/A
Persistent Data Challenges
Feeds are not pristine data sources
No standardization for feed syntax or product concepts
Balancing data quality and economics
Challenge to handle data error reports when known error rate exists
Data error handling vs. source code error handling
Simple Data Verification Tools w/Data Verfiiers
Early Solution: Pronto Bug Firefox Add-on
N/A


2007 - Social Shopping
Social Shopping
Big push for creating consumer value
Large network translates to lots of merchant traffic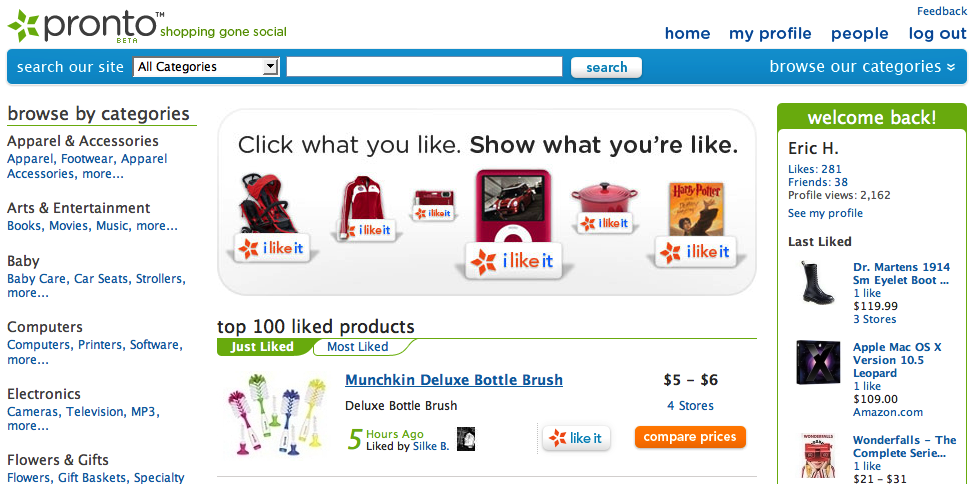 N/A
Socially Transmitted Data Challenges
Merging real-time user data with feed and crawl data
Desiging to scale to millions of read/write transactions
Notion of dynamic index an issue ("stale" products)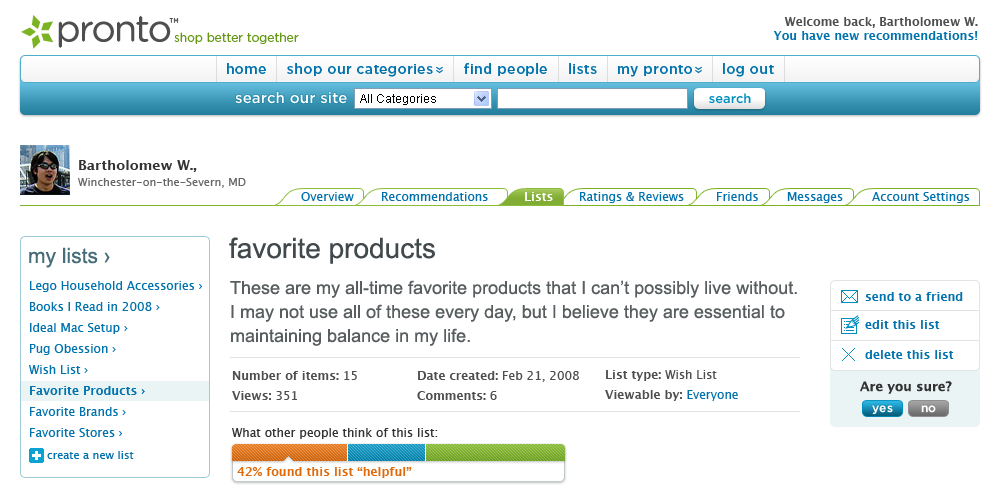 N/A
Pronto Web Site (version 2)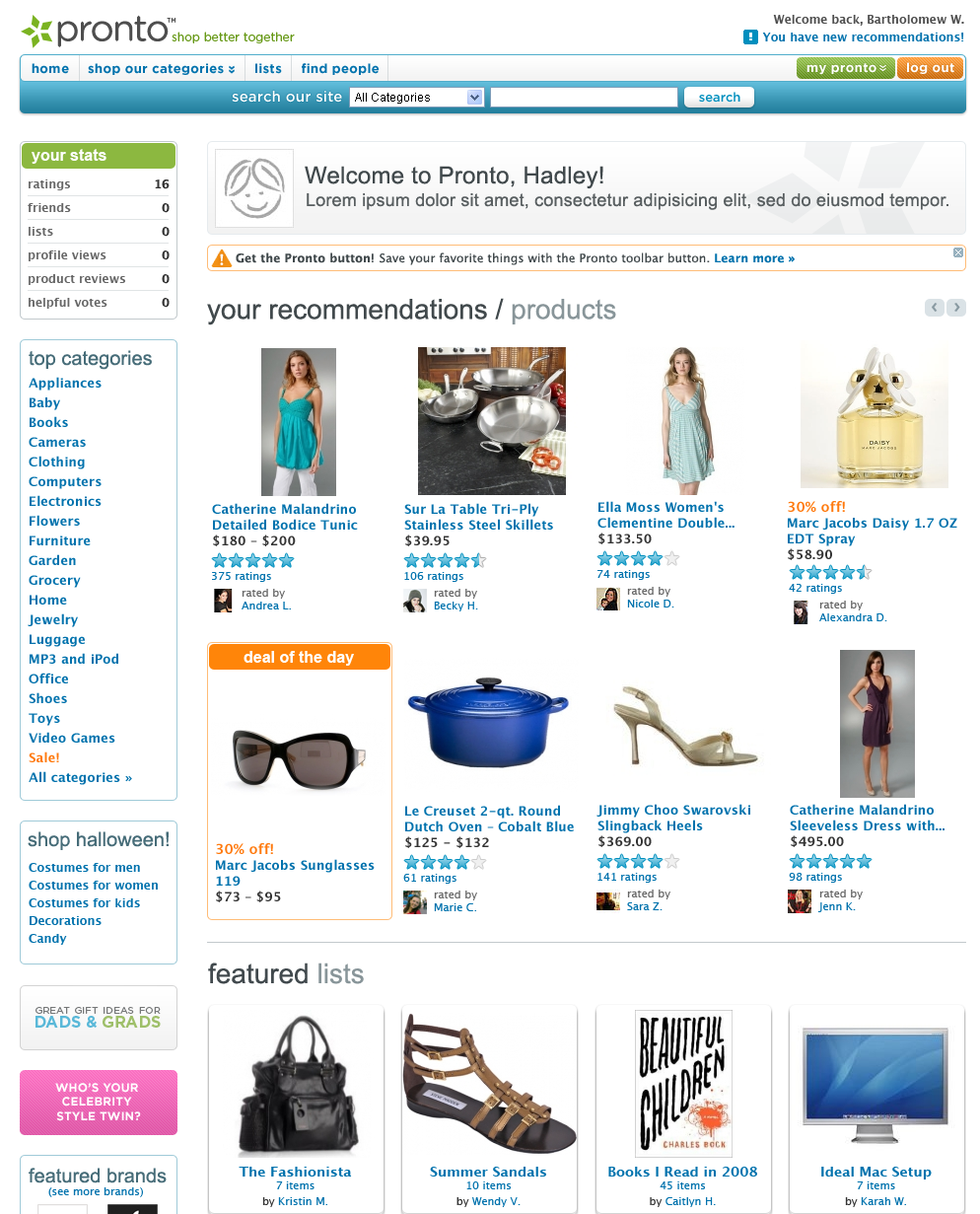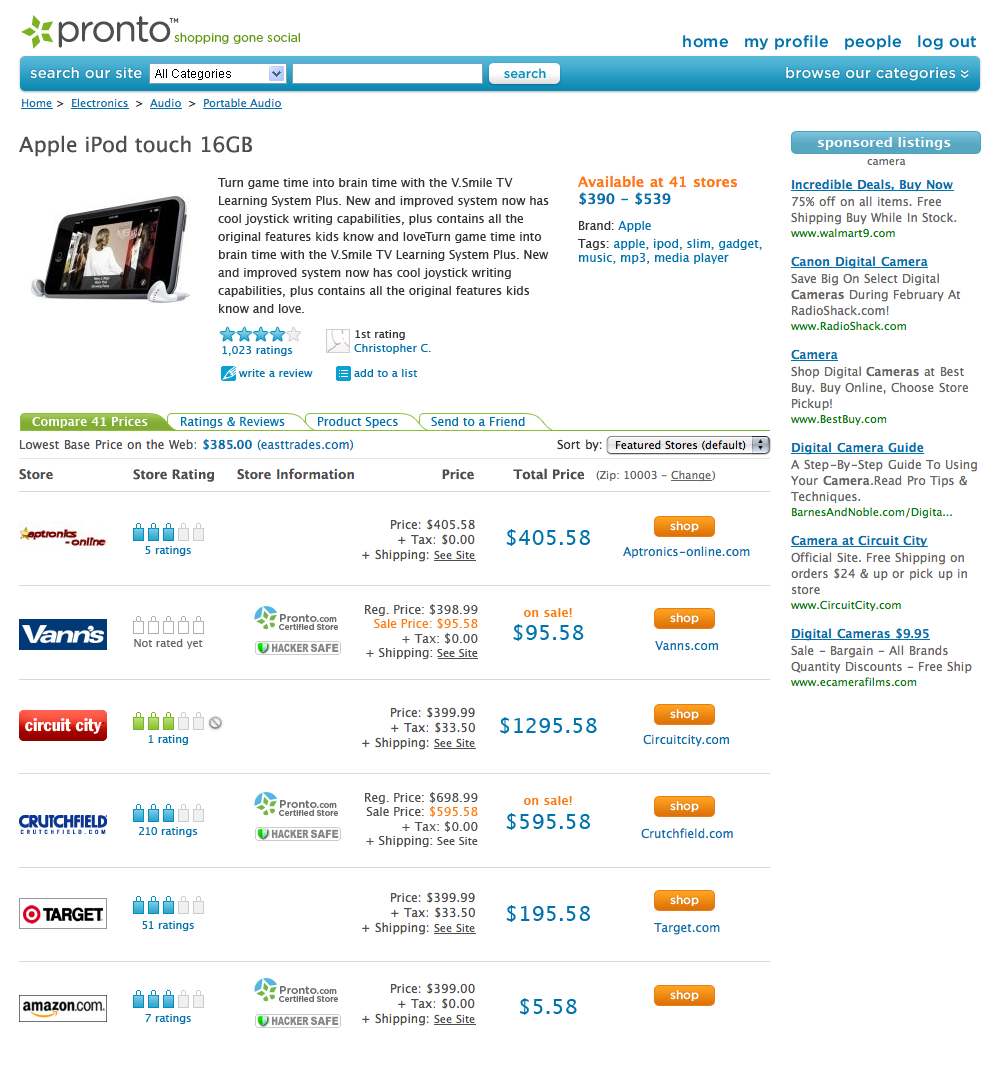 What Happened?
Explosive traffic growth did not emerge
Revenue pressure (still not profitable)
Did not invest needed time and resources
Should have tapped into Facebook network
N/A
Data Quality Advancements
Data Doctor Platform
Manual corrections, hints and feedback to data processing
Company-wide competitions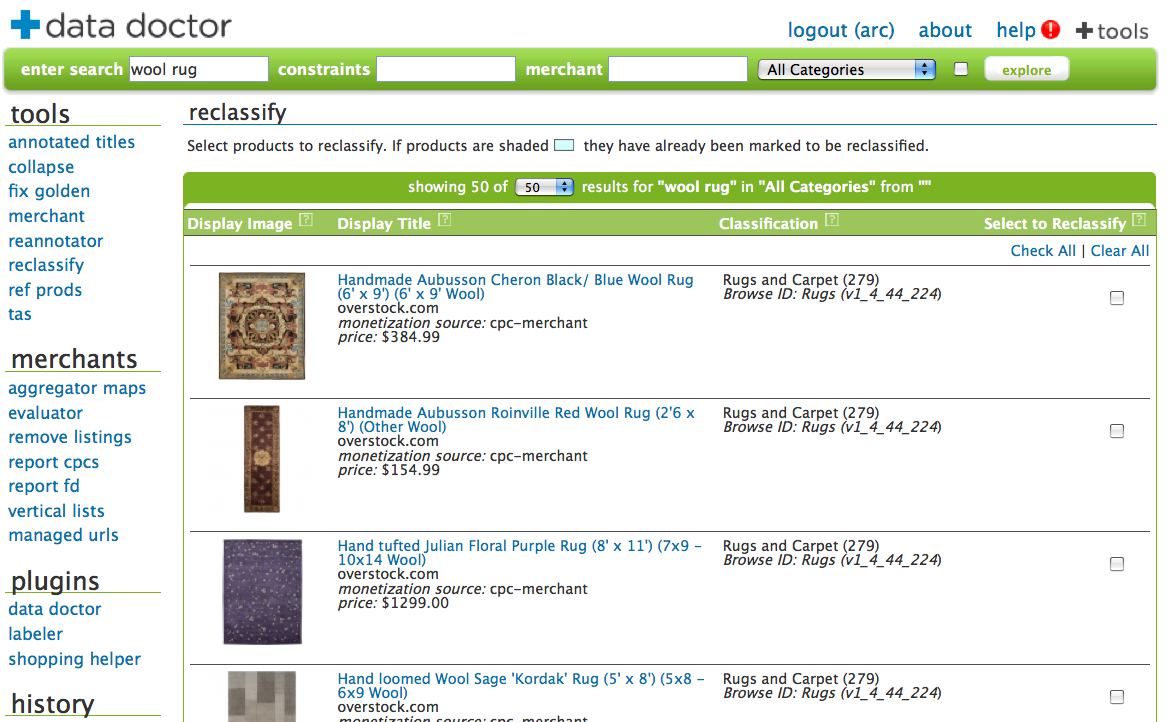 N/A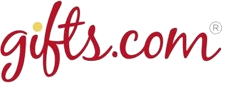 2008 - SEM and Profitability
Profitability and SEM
Meanwhile, SEM optimization engine was being refined
SEM management tools being expanded and refined
SEM drove Pronto to profitability in June, 2008
More SEM with flanker brand OhDeal.com
Improving SEM for Gifts.com (acquisition)
N/A
Economic-driven Data Challenges
Merchant diversity in search becomes important
Increasing friction: paid feed vs. unpaid crawl
Data processing becomes more connected to business systems
Testing data/logic changes increasingly challenging
A/B testing for SEM becomes dominant force
N/A
Other Projects
Flexible Search Filters
Flexible Browse Taxonomy
Pronto Newsletter
Pronto Bookmarklet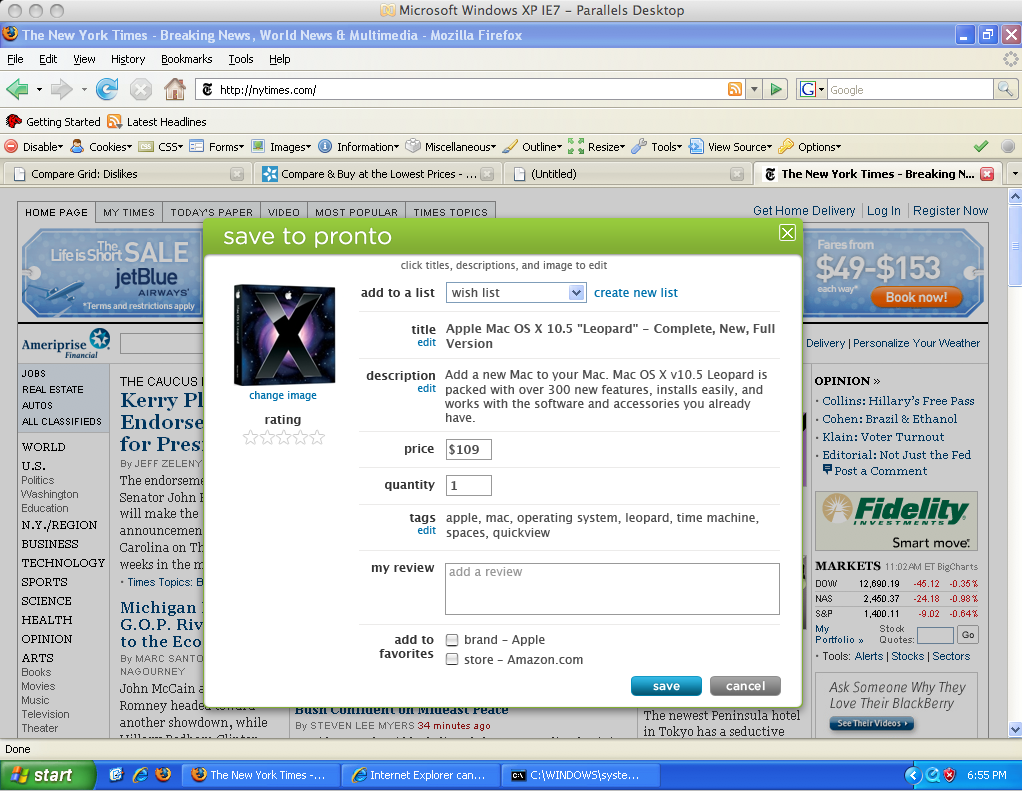 N/A
Data Management Advancements
GUI editors for data instead of text files
Better version control and rollback abilities
One button deployments and deployment histories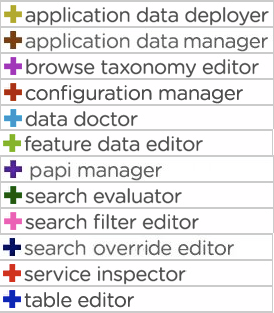 N/A
Fringe Projects
Partner API Enhancements

(full site support)

Pronto Labs Experiments
New Shopping Helper Firefox Add-on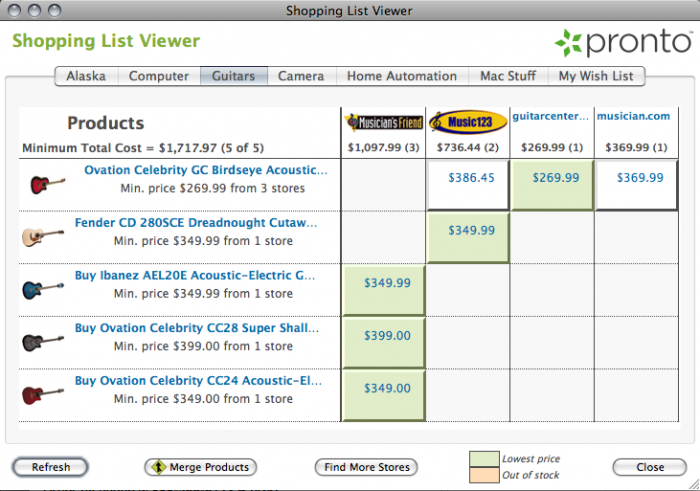 N/A



2009 - Microsite Strategy
Verticals: Fashion, Tech and Home
Still trying for the elusive "direct" and SEO traffic
Multiple domains as SEO strategy
Vertical sites for curated product experience

Fashion (main initial focus)
Home and Garden
Technology
N/A
Data Solutions for Verticals
N/A
Pronto Web Site (version 3)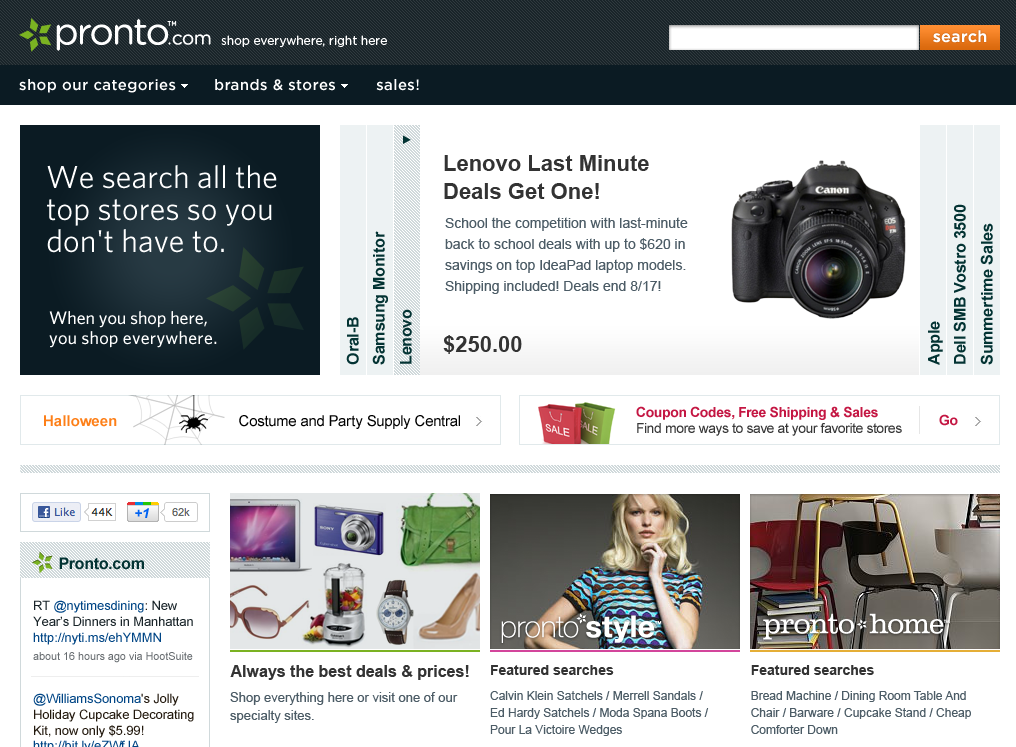 Other Projects
First Pronto Mobile App (contract, API-based)
Feed creation for syndication (API alternative)
API widgets for SEO (for BuzzMedia footers)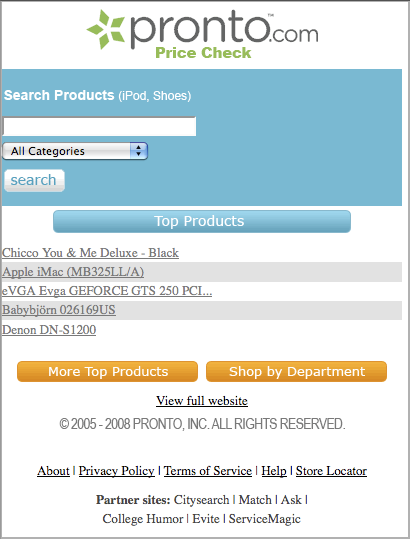 N/A
IAC and Liberty Deal
Frenemies: Diller and Malone
Stocks, money and companies exchanged
Gifts.com moves out of Pronto

N/A


2010 - Brain Drain
The Brain Drain
Pronto equity event and valuation

(Now 100% IAC owned)

Many key technical people moved on
Non-trivial systems with years of tweaks
Frenetic startup activity made transition challenging
"Best" software practices vs. "best" for business?
N/A
Strategy Decisions
Pronto Content Network (PCN) for SEO

Writer's Network for PCN Content Generation
New ProntoKids micro-site
New BabyPronto micro-site
Decision to turn off most crawling
N/A




2011 - International SEM
Internationalization
Leveraging our SEM Engine in other countries
Most based on 3rd-party APIs

(DealHop used feeds)

Expanded our feed format to allow richer information
New code for large portions of data pipeline
Japan

(October 2010)

Germany

(April 2010)

France

(July 2010)

United Kingdom

(October 2011)
N/A
World-wide Data Challenges
Data model and mechanisms had core language assumptions
Separation of data for multiple data pipelines
Language expertise hired: Japanese, German, French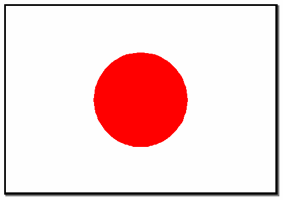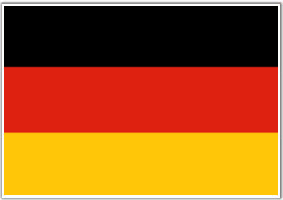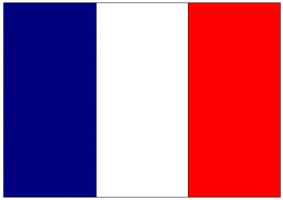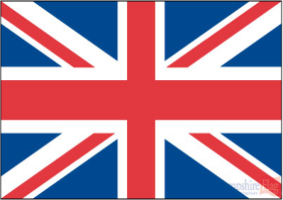 N/A
Other Projects
New iPhone application with price alerts (contract)
New mobile web site
Javascript Widgets (via Partner API)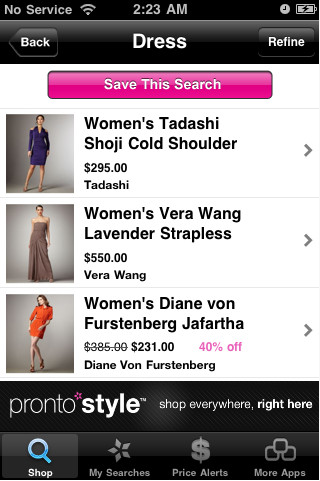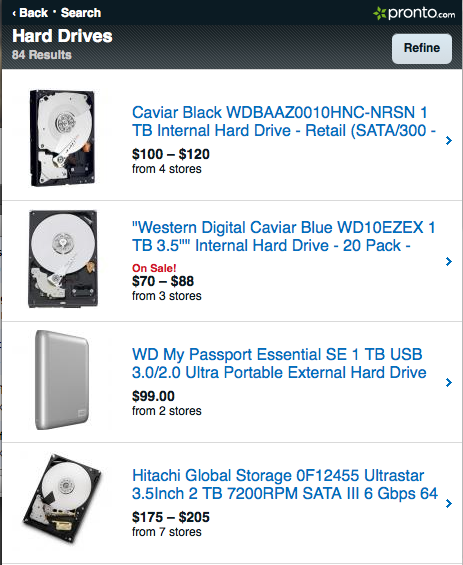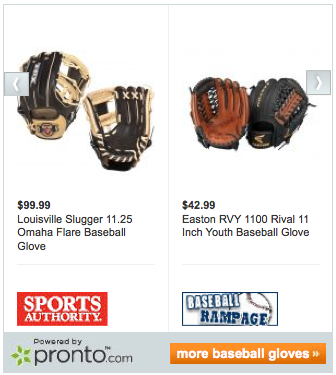 N/A



2012 - Decline of SEM
SEM's Last Hurrah
FineComb: Broader SEM via Google API
AllBlox: Local SEM via Yellowbook API
SEM risks leads to new business strategy
N/A
Re-focus and Re-organize
N/A
Casualties of Re-focusing




Web Site Redesign (version 4)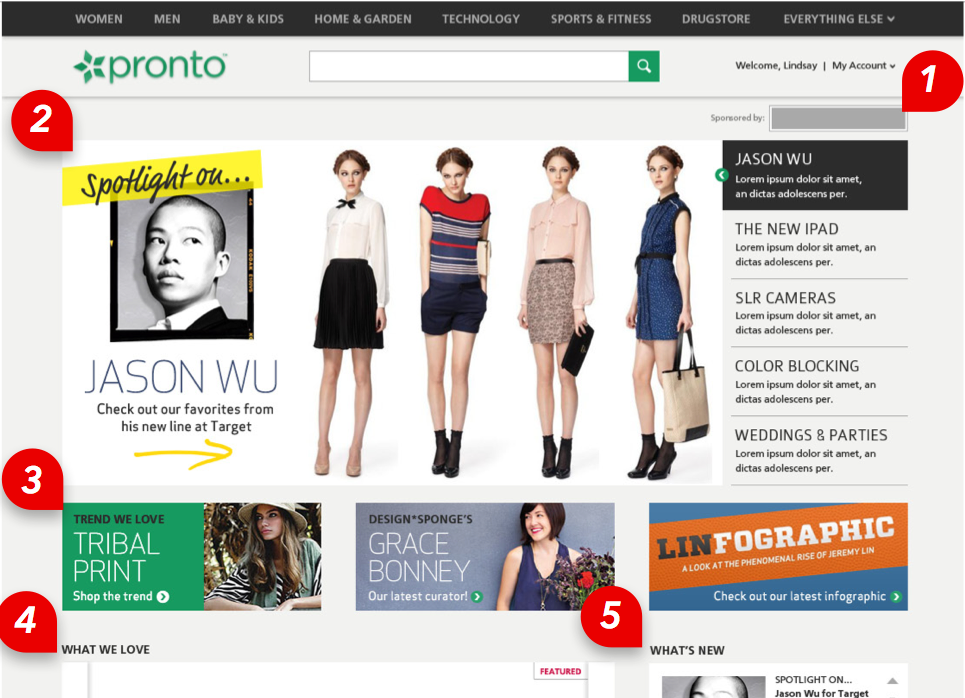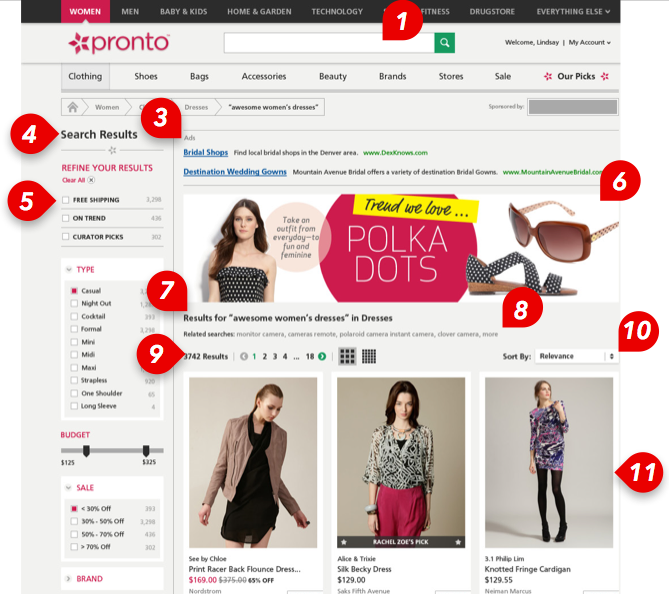 Fun Before the Storm
First ever all company gathering in NYC (June 2012)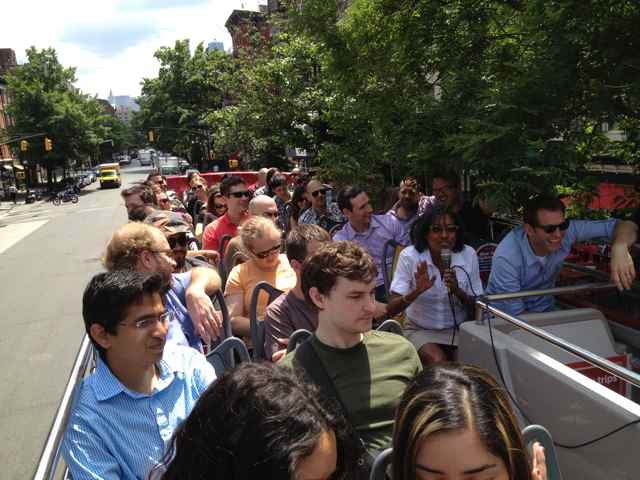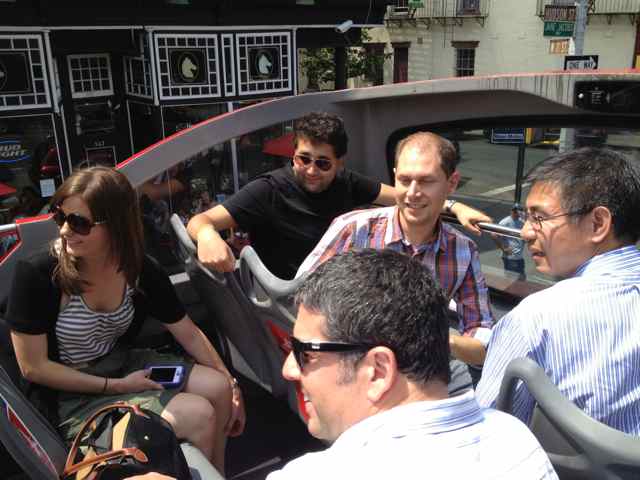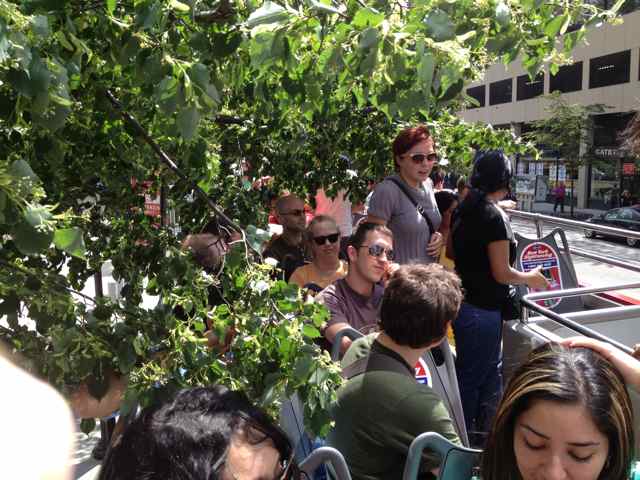 N/A
Writing on the Wall
Google policy change devastates SEM
A.k.a., Arbitrage Apocalype
IAC Acquisition of About.com
Content strategy now redundant in IAC
N/A
Foreshadowing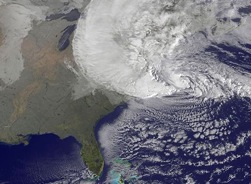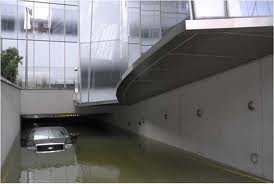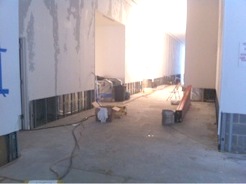 2013 - The End
Pronto Dissolved
SEM web site Pronto.com managed by Ask.com
New Shop411 product-oriented site team formed
Consumer Search also joins Shop411 Team
Price Finder add-on moved to MindSpark
Product Search and Data moved to MindSpark
N/A
Merger Casualties



Lessons
We did a lot with very little
We did too much, not enough focus
Short-term financial incentives detrimental
Only ever had a single business metric
"Best" software practices not always best
Good people help compensate for flaws
A lot of learning on the job
It's been challenging, interesting and fun
N/A